Gazan Twitter Reactions to extended ceasefire deal reached between Israel & Palestines Unified Government –
I can breath for the first time. A ceasefire has been declared and my family is safe and unharmed. Endless gratitude to the resistance — 48Refugee (@48Refugee) August 26, 2014
confirmed information, ALL of the Palestinian leadership backs call to join ICC, the ICC themselves want Pal to join. Only exception: Abbas.
— Jalal (@JalalAK_jojo) August 26, 2014
— kholoud Diab (@kholoudEllouh) August 26, 2014
Khaled Mashaal reportedly forced by Hamas' Gaza leadership to accept Egypt's ceasefire. Apparently he's not a happy camper right now.
Key elements of ceasefire deal –
Opening of the borders and freedom of movement between Israel, the West Bank and the Gaza Strip.
Extension of fishing waters from six to 12 miles.
Start of rebuilding process in Gaza
I wish i could hug every mom who lost her child and cry with her
— Ziad Bakri (@ZiadBGaza) August 26, 2014
@Lamis_Deek @MaxBlumenthal the deal was put on hold by resistance for 1 word: lifting or easing the siege. Today's deal says: lifting siege — Raja Abdulhaq (@Raja48) August 26, 2014
Big winners: proponents of the status quo ante.
— Jonathan Schanzer (@JSchanzer) August 26, 2014
Live blog: Thousands of people have taken to the streets of the #Gaza Strip to celebrate the start of the #ceasefire http://t.co/bKPI68Esvh — Middle East Eye (@MiddleEastEye) August 26, 2014
MiddleEastEye Live Blog reporting – "Senior Israeli cabinet members are opposed to the ceasefire agreement, reports Haaretz correspondent Barak Ravid." "Naftali Bennett, Avigdor Lieberman and Yitzhak Aharonovitch have said they are opposed to the deal agreed with Hamas – no vote was held on the agreement."   — Daniel Nisman (@DannyNis) August 26, 2014
Everybody is happy EVERYBODYYY #Gaza — Guess what (@Farah_Gazan) August 26, 2014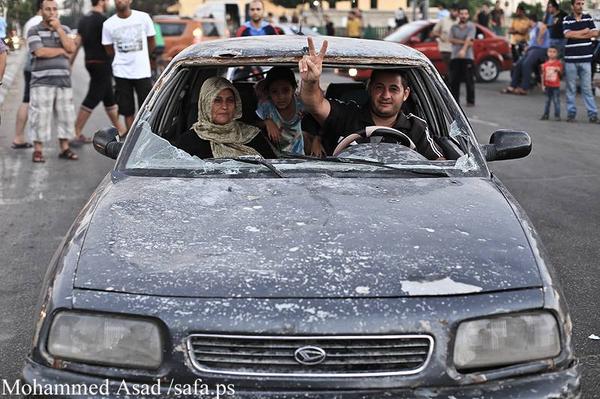 The end of a stupid, cruel, pointless conflict. Thousands dead, tens of thousands maimed, hundreds of thousands homeless. For nothing. — Tom Gara (@tomgara) August 26, 2014
  More than 2133 Palestinians killed, 11K wounded… 51 days of #GazaUnderAttack: The Israeli assault on #Gaza is over, but occupation is NOT. — Rania Zabaneh (@RZabaneh) August 26, 2014
This is pissing me off! STOP THE DAMN FUCKING SPORADIC GUNFIRE IN THE AIR! #Gaza #ceasefire — Omar Ghraieb (@Omar_Gaza) August 26, 2014
"Palestine's Interior Ministry has warned people not to shoot in the air in celebration, after reports of injuries. The Interior Ministry demands that citizens immediately stop shooting in the air, and find other methods of celebrating out of concern for their lives."     
Palestinians in #Gaza are now flooding the streets to celebrate the ceasefire after 51 of ongoing carnage and destruction. #Love   — Maha Rezeq – مها رزق (@GazaInAndOut) August 26, 2014
Long live Palestine, long live Gaza. pic.twitter.com/Gw7AO31DbQ — Gaza Youth Break Out (@GazaYBO) August 26, 2014
Reminder, Mahmoud Abbas had ZERO EXCUSED not to ratify the Rome Statute, and now he has -1 excuses http://t.co/6BxeVF1eie #ICC4Israel NOW! — Jalal (@JalalAK_jojo) August 26, 2014
Ceasefire is official. Cheers and gunfire erupt throughout Gaza City. pic.twitter.com/h31vbYPc18 — Dan Cohen (@dancohen3000) August 26, 2014
Abbas now: supplies will enter & we'll continue negotiations tosatisy all parties, Qatar has helped with this, Kerry was in regular contact — Lamis Deek لميس ديك (@Lamis_Deek) August 26, 2014
  Abbas now says he wants to avoid "useless negotiations," says terms must be clear. Has he ever abided by his own guidance? — Max Blumenthal (@MaxBlumenthal) August 26, 2014
Gag order on discussion of details of three kidnapped Israeli teens supposedly component of vague Israel-Hamas deal http://t.co/W1MQeNxk6N — Max Blumenthal (@MaxBlumenthal) August 26, 2014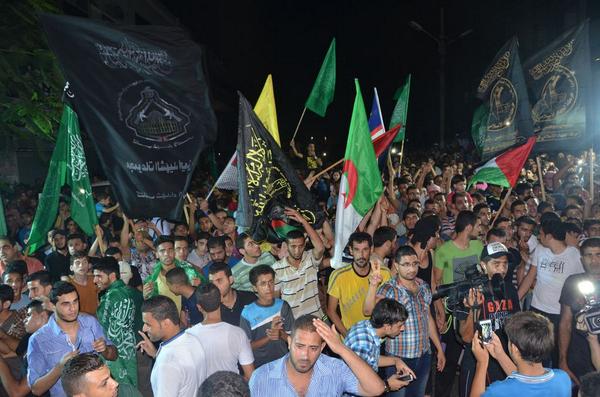 "Together we will rebuild our free country", said Mahmoud Abbas in Cairo, right before requesting an Israeli permit to return to Ramallah.
— Jareer Kassis (@JareerKassis) August 26, 2014