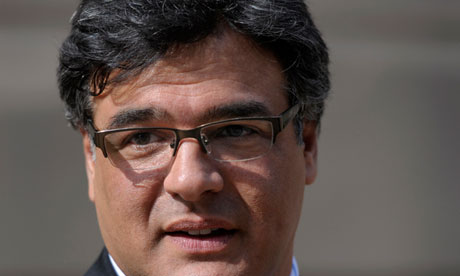 Former CIA officer John Kiriakou. Photograph: Cliff Owen/AP
Former CIA agent John Kiriakou having served three months of a 30-month sentence at the Federal Correctional Institution in Loretto, Pennsylvania for revealing to an ABC reporter the US governments use of waterboarding of suspected terrorists has penned his first open letter.
Firedoglake dot com has made arrangements to make public letters he will be writing from prison detailing his story –
"This letter is the first part in a series inspired by dinner table discussions between Jane Hamsher, Jesselyn Radack and John Kiriakou (and others) before he went to prison. John wanted to have his letters published so that he could still communicate and share his story with the outside world."
In this initial letter, Kiriakou tells the story of a deliberate set up by corrections personnel –
"…in which prison officials attempted [to] setup a confrontation between Kiriakou and a Muslim prisoner, telling Kiriakou he was the uncle of the Times Square bomber, when in reality the imam was in prison for refusing to testify in the Lackawanna Six case. Prison officials also lied to the Muslim prisoner, telling him that Kiriakou had called Washington after they met and had been ordered to kill him."
Firedoglake dot com is also asking folks to sign the following petition – please consider adding your name to our petition asking President Obama to pardon John Kiriakou.